IonixLight Red Carpet Facial at Lulylash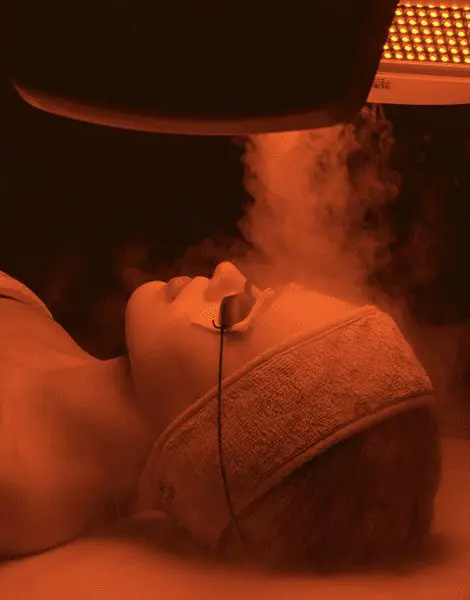 Get red carpet ready with our IonixLight Red Carpet Facial
This new and innovative facial treatment, Oxylight, uses light to eliminate flaws and leave the skin feeling soft and supple. The IonixLight Red Carpet Facial is an extraordinary session that includes numerous research-based treatments. You'll look like a star in no time, whether you're headed to a board meeting at 1 o'clock or want to take a selfie without any filters.
Luly Lash is the The best beauty salon in Santa Monica for IonixLight Red Carpet Facials by providing an array of services using the most cutting-edge, authentic equipment and expertly administered by licensed, highly-trained estheticians in a relaxing, luxurious environment.
Revolutionary and innovative technology
Our IonixLight facial is a celebrity-approved way to get glowing skin in no time. The skin is left feeling smoother, plumper, and more radiant after using this facial machine, which combines five different treatments into one therapy. Luly Lash, is the best beauty salon in LA that cleans, exfoliates, and revitalizes the skin for a radiant new look through our facial in Santa Monica. Wrinkles and fine lines can be diminished with our treatment. Apply this treatment now, and your skin will be red-carpet-ready.
Get youthful skin in no time
We have the solution to your skin problems with our IonixLight Red Carpet Facial. Acne and the signs of aging skin can both be alleviated with the right kind of treatment. Your skin will benefit from its overall rejuvenation, increased plumpness, diminished dark spots, and more even skin tone. We have the best non-invasive solution for your skin problems, and it's all included in our all-in-one treatment. The skin's youthful glow is brought back by the five-step process.
The benefits of IonixLight Red Carpet Facial
Skin tightening and toning
To increase collagen and elastin production, OxyLight is a one-stop treatment that does it all. The result is tighter, firmer skin with fewer wrinkles.
Skin sagging can be reduced with the help of our facial treatment, which includes exercises for the facial muscles to restore elasticity. One further perk is that the skin becomes thicker and fuller after treatment.
Acne control treatment
To aid in the removal of excess oil and debris from pores, try our OxyLight facial. Having acne is less likely if you do this. LED light therapy is also used to reduce oil production and stop infections. As an added benefit, our light therapy can calm inflamed skin. In addition to preventing acne and restoring moisture, serums can help skin look and feel more refined and healthy.
Exfoliation and pore minimization
To get rid of oil buildup, dead skin cells, and grime, we use diamond microdermabrasion in our OxyLight facial. This reveals skin that is more radiant, clear, and uniform in tone.
With our treatment, you can say goodbye to clogged pores and reap the benefits of reduced acne and smaller skin texture. The treatment results in skin that is silkier, more supple, and more radiant.
Lymphatic massage
There are numerous improvements to skin that can be made with our lymphatic massage. Reduced facial puffiness is the result of lymph fluid being drained. This product helps enhance skin tone and texture as well.
The massage has the most excellent effect on the skin, making it more pliable and soft. For a radiant appearance, it aids in blood circulation while flushing out waste products and toxins.
Reduces redness
Our OxyLight session will help you reduce acne and redness. A buildup of dirt, dead skin and oil in too-large pores bring acne. Pain, swelling, and redness are all possible outcomes. A clearer complexion is achievable with the help of OxyLight.
Total face rejuvenation
OxyLight, available at Luly Lash, is a facial rejuvenation treatment that can lessen the appearance of fine lines and wrinkles and restore a more youthful glow to the skin. Several of our facial treatments can kickstart your body's natural ability to produce collagen and elastin. This results in firmer and more supple skin. With our OxyLight treatment, your skin's natural moisture balance can be restored. Acne is caused by the overproduction of oil in the skin, and when the skin is adequately hydrated, this problem is mitigated. Our facial treatment will leave your skin looking clearer and younger.
Clears dark spots on skin
Sun damage and acne scars both cause hyperpigmentation that manifests as dark spots. It's not easy to get rid of dark spots because there aren't many skincare products designed to treat isolated patches of skin. Pigmentation and other skin discolorations are no match for our OxyLight facial treatment. This results in skin that is more refined, revitalized, and healthy-looking.
Our treatment removes dead skin cells on the skin's surface. It can stimulate cell renewal, revealing fresh, healthy skin beneath. When applied to the face, serums can boost the efficacy of the treatment and help skin look more even in tone.
Our Process:
Exfoliation with diamond dermabrasion
Our wand's ergonomically designed diamond-studded tips can be molded to fit any part of the face, eye, lip, or body. Encourages a more in-depth peel, which can resurface and polish the skin without causing any irritation or recovery time.
Cleansing the lymphatic system and reducing swelling
This method, which goes by the name "Negative Pressure Therapy," is used to increase lymphatic drainage and flush harmful substances from the system. Additionally, it enhances tissue functions, increases blood flow, and reduces the visibility of cellulite in the neck.
High-pressure oxygen spray
This device infuses the dermis with oxygen-rich moisture, activates cells, improves blood flow, and hydrates the skin. Pressure Swing Absorption starts with 95% pure oxygen, effectively eliminating surface bacteria.
Biosonix ultrasound
This cutting-edge device uses the Piezoelectric Effect (ultrasound waves piercing the skin by around 3cm) and the phonophoresis process to distribute vitamins and nutrients by shining a full spectrum LED light on them.
Myolight microcurrent
The Myolight, which uses full-spectrum LED light, sends a low-level current that is modeled after the body's natural circulation to the facial muscles, which results in rapid toning and contouring. This also boosts the production of structural proteins like collagen and elastin.
LED Light Therapy with Oxygen
Through its 12 nozzles on its full-spectrum LED light panel, the OxyLight injects dry oxygen at a purity level of 95%. IonixLight uses red, yellow, and blue LED light therapy to produce a gentle Negative Ion mist released through a single, central nozzle.
Visible results after one treatment
The facial is 45 minutes long, and for best results, it's best to get 4 or 6 of them. Once a month, maintenance treatments may be necessary. Both discomfort and downtime are entirely unnecessary. You'll feel better after each treatment because the effects build on one another.
Our custom facial will leave your skin well-hydrated, and clear skin
For face care, we turn to Environ skin care products and an Eshte Max hydro jelly mask. The clear, well-hydrated complexion you'll get from getting one of our facials is only one of the ways it can make your skin look younger. Intense results are what we aim for with our individualized facial treatment, which will leave your skin feeling silky smooth and looking fresh and young.