Cool Peel Facial at Lulylash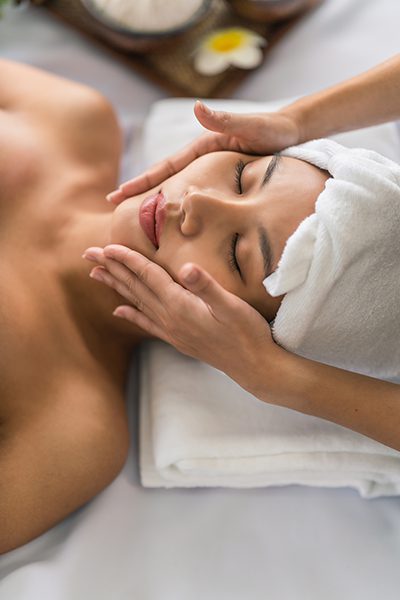 Why Lulylash is the Best Choice for Cool Peel Treatments
The winters are here, and it's time to get yourself a refreshing cool peel facial. The crisp air and the chill can leave your skin feeling dry and dull. The best way to rejuvenate is a good cool peel facial. The best place for a cool peel facial in Los Angeles and Santa Monica is Lulylash beauty salon!
Our salon is located in Santa Monica and Los Angeles and offers the latest and most advanced beauty treatments. We use only the highest quality products, and our team of experts is dedicated to providing our clients with the best possible service. We understand that each client is unique, and we take the time to personalize each treatment according to their individual needs. If you're looking for the best facial Santa Monica offers, look no further than Lulylash!
What Is Environ Cool Peel® Technology?
Environ Cool Peel® is a revolutionary skincare technology designed to uncover younger-looking, brighter skin. It's specifically formulated from naturally derived vitamin A, an ingredient that begins restoring the skin's hydration balance. During this innovative procedure, a specialized blend of lactic acid and low-strength glycolic acid works together to penetrate deep into the skin layers. This unique combination helps to promote more even exfoliation, improve skin texture and tone, and restore elasticity for optimum skin health. Not only does Environ Cool Peel® get rid of rough, dull spots on the skin's surface, but it also encourages boosted collagen production for a more youthful complexion. Over time, as your treatment progresses, you will notice smoother, healthier-looking skin with improved texture and fewer signs of aging.
When is Environ's Cool Peel the Right Choice?
Environ's Cool Peel is a revolutionary choice for treating fine lines, wrinkles, acne, pigmentation irregularities, and other skin issues. Not only does its unique blend of lactic acid help reduce blemishes and age spots without damaging the epidermis, but it also offers fast results compared to other chemical peels available on the market. It's the right choice for anyone looking to repair sun damage, smooth wrinkles, even skin tone, and achieve clearer-looking skin with minimal downtime. Cool Peel has become a go-to option for many because of its powerful but gentle exfoliation that doesn't require long recovery periods or expensive treatment. Use once a month as an at-home solution to get great results. Environ experts advise that if you're looking for a fast and effective way to reduce the visible signs of aging, you should take this facial every three weeks.
How does the Cool Peel work?
Environ's peeling formulations are perfectly balanced. Featuring a low percentage and pH to ensure gentle yet effective results that won't irritate your skin. The Cool Peel uses a specialized blend of lactic, glycolic, and salicylic acids that penetrate the skin layers and leave behind vital vitamins. The low-strength acids help reduce wrinkles, sun damage, age spots, and other skin issues without requiring painful treatments or long recovery periods. The Cool Peel is applied in two stages – the first to penetrate the skin and the second to protect it. The Cool Peel is also packed with antioxidants that help boost collagen production and improve skin tone and texture while providing long-lasting hydration and protection from environmental stressors like sun damage and pollution. The treatment usually takes around 30 minutes, making it a quick yet effective way to get better-looking skin.
What are the Benefits of an Environ Cool Peel?
As one of Los Angeles's best facials, Environ's Cool Peel provides many benefits for those looking to improve their skin. Let's take a closer look at some of the advantages this innovative procedure can offer:
The Cool Peel is designed to reduce wrinkles, fine lines, and other signs of aging. The low-strength acids penetrate the skin layers to promote smoother, more even exfoliation and encourage increased collagen production for firmer-looking skin.
The treatment also helps to improve skin texture and tone while reducing blemishes, age spots, hyperpigmentation, and other skin irregularities. The peel's antioxidants help protect the skin from environmental stressors like sun damage and pollution.
The Cool Peel is a safe and gentle option for fast results with minimal downtime. The treatment is also very affordable, making it a great choice for anyone on a budget.
The Cool Peel is the perfect solution for restoring their youthful complexion without breaking the bank. The procedure can be done quickly and conveniently in 30 minutes or less.
Why Should You Choose Lulylash for The Best Facial in Santa Monica?
There are many beauty salons in the Los Angeles area, but Lulylash stands out for its commitment to providing the best facials in Santa Monica. Here are some reasons why you should trust us with the care and maintenance of your skin:
1. Years of Experience:
With years of experience offering the best facial in Santa Monica, Lulylash is a local favorite amongst beauty-conscious locals. Its experienced staff offers customized services tailored to your skin type and beauty objectives. Expertly skilled aestheticians utilize the latest technologies and top-quality products to provide you with a durable, natural, and refreshed glow. In addition, all services delivered by Lulylash are focused on promoting healthy skin health and achieving long-term results, ensuring seniors look beautiful while respecting their safety, dignity, and privacy.
2. Variety of services:
At Lulylash, you'll find a broad range of beauty and skincare treatments, including The Cool Peel. The salon offers other advanced facials, dermabrasion, medical-grade peels, and more. The team also provides lash extensions, lash and brow services, and more.
3. The Highest Quality Products:
Lulylash only uses the best products available to deliver outstanding results. The team selects high-quality skincare solutions that are safe and effective in protecting your skin's health. From cleansers, toners, facemasks, and moisturizers to The Cool Peel, you can be sure that all of the products used at Lulylash are of the highest quality.
4. The Latest Technology:
The staff at Lulylash uses the latest technology to ensure you get the best treatment possible. The salon is equipped with a state-of-the-art laser, IPL, radio frequency, and LED devices to ensure their services are of the highest quality. The team also utilizes cutting-edge equipment to provide noninvasive treatments that are quick, easy, and safe.
5. The Best Results:
At Lulylash, the team works hard to provide you with the best results possible. The aestheticians take their time to carefully assess your skin and discuss the best course of action for achieving your beauty goals. The salon also utilizes an array of innovative techniques to ensure that you get the most out of each facial treatment.
Does The Cool Peel sound like the perfect solution to refresh your complexion? The team at Lulylash is here to give you the best facial Santa Monica offers. Contact us today and book an appointment with one of our expert aestheticians!
We look forward to helping you achieve your beauty goals!